When hubby takes his off, I am sure that I can relax a bit in the kitchen for I know that he will be eager to prepare something. I was not wrong, he did prepare chicken biryani but not the same biryani he prepared in the past post that I have which you can compare if you would check my blog about it..
Chicken Biryani
Delicious Hydrabadi Chicken Biryani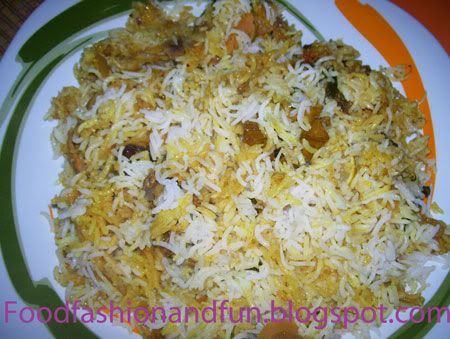 I must say practice really makes perfect, and this time his biryani is really tasty and delicious, the basmati rice was perfect and not over cooked or sticky. The chicken that was marinated with spices really seeps deep and I can say that this is truly Hydrabadi Chicken Biryani especial and one of the best recipes my hubby cooked.
The preparation was not the same as the first one since all the spices he gathered first before mixing them with chicken while the basmati rice was soaked for 30 minutes before cooking it in water which is to be half done.
Second layer of basmati rice, topped with mint leaves, lemon and coriander leaves

I will be posting here the spices needed for marinating your chicken so just stay tuned for the link that I will share on my other post. Now going back to chicken biryani story, you can use different chicken parts here with bones. You also need to buy plain yogurt because you will mix it together with other spices for marinating your chicken.
You would also need a deeper pan where you can place your chicken and top the half-cooked basmati rice on top of it. Be sure that the lid is tightly sealed or else you can use a cheese cloth and cover the lid so that the steam would really infuse the rice and chicken together.
You can marinate your chicken for an hour but if you're not in a hurry to cook, the longer your chicken is marinated the better. But don't over soak your basmati rice. It should only be done for 30 minutes and cook it in water which you can put a bit of oil and salt and it has to be 50% done, not fully cooked rice since you need to top this half cooked rice into your chicken.
Basmati rice has longer grains and a very aromatic smell

Once you're done marinating your chicken, you need to put it in a pan and let the water from the chicken juice out while it is in medium heat. When you can smell the aroma of your chicken, just check the water but don't let the chicken ran out dry at the bottom of the pan because this means your chicken is already done and you should have already added the half cooked basmati rice on top.
Biryani should be in layer so meaning the second topping of rice will have to include some ingredients like mint leaves, coriander leaves, lemon slices and fried onions then layer it again with rice. See to it that the flame is in slow heat so that you won't over cook the chicken and the rice. Tightly sealed lids will make sure that your cooking your rice better and the moisture of it will make the rice softer but not sticky.
I really enjoyed the whole day of eating Hydrabadi Chicken Biryani. We just did not include any food colorings into it. But if you want some color, you can try to include saffron into it. Hope you did enjoy this wonderful dish which is truly authentic Indian cuisine.