This is my version of pancit canton in my own country but here in India they call it Hakka noodles with egg. It was easy to cook and prepare so I suggest my fellow friends here who regularly reads my post to also try this recipe.
Yummy Egg Hakka Noodles sprinkled with spring onions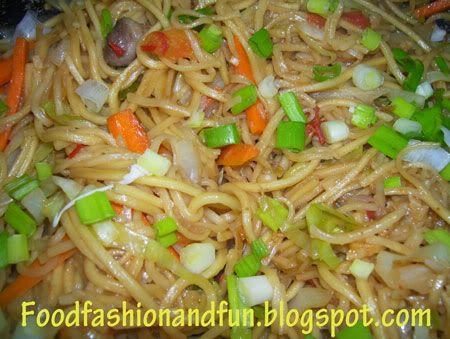 It needs veggies like cabbage, carrot, green beans, capsicum, tomato and spring onions. But in this presentation what I have was carrot, cabbage and spring onions only. You can also use chicken and shrimp in this recipe. But what I did use was chicken liver and it was just tasty.
Hakka noodles have wheat, soya, peanuts, milk and tree nuts and they have a warning at the back of the label for people who have sensitivity or allergy to the said ingredients. Some Hakka noodle packets do have flavorings included, but this one does not have and it's with egg which is considered non vegetarian meal.
Anyway I have no issues on this one. It is still healthy to prepare for my family and delicious. You just need to boil the Hakka noodles for 5 minutes and drain the water and keep it aside. The next step for you is to sauté it in garlic and onion and the chicken meat which I used was liver but if you have shrimp then its better.
Still cooking the noodles here so no spring onions yet

After this you can now add the tomatoes and cabbage and season it with soy sauce and ground black pepper. Once your cabbage is half cooked you can now add your hakka noodles and then add some salt into it and stir gently so that the noodles would not be mashed. The last ingredients that you will need to put were carrots and spring onions. The carrot should not be overcooked. It is better to eat it half cook and still crunchy as well as the spring onions for toppings.
You don't need to put too much water in this recipe. If you think the noodles sticks at the bottom of the pan, then just two tablespoons of water will do and just put the flame into medium to slow heat. As I have said, you don't need to overcook this one since the noodles are already boiled before you stir fry it with the sautéed veggies.
My bowl of noodle goodness, seasoned with soy sauce and lemon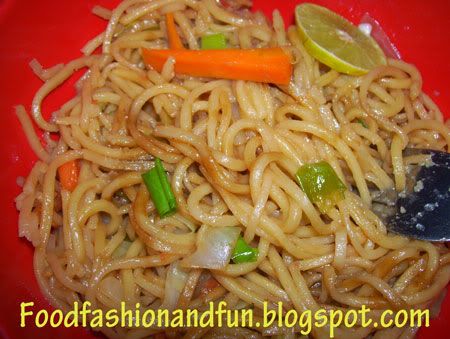 Some people do add MSG or monosodium glutamate in their dish, but as for me, it is not healthy to consider such so I don't use MSG in any of my cooking or recipes. But if you like to add, go ahead as long as it is in moderation. Noodles like this are always good to pair with tasty breads and fried finger foods such as spring rolls. I also suggest that you squeezed out a lemon and put soya sauce as you eat it…Bon Appetit!