I used to remember when I was in Makati, we used to go to a restaurant that offers Italian foods and I really like their seafood pesto pasta. It's not because I was craving to eat one but I just wanted to try if ever I can come up with chicken pesto which I can share wholeheartedly with hubby.
Very delicious Chicken Pesto Pasta, a must try!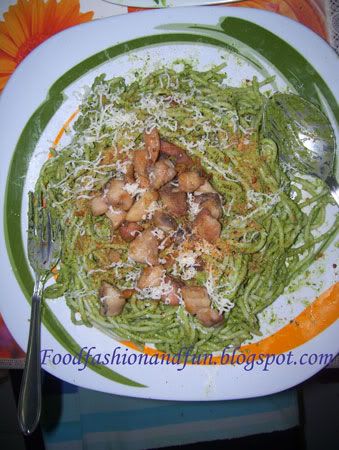 I got this recipe online but as usual, you know me, if I don't have the ingredients available, I would improvised just like what I did to some of my recipes here. But it turns out still yummy and delicious even without sacrificing the budget just to buy those expensive ingredients. I am talking about parmesan cheese or regianno cheese. These types of cheese are quite expensive here in India for the fact that they are exported. So what I did was to just use cheddar cheese and see what would come up.
Luckily I was able to buy fresh basil leaves and it was just cheap. Although I don't want my pesto to be with just basil leaves so I also bought spinach to make my dish healthier. About the pine nuts, well this is another ingredient that I cannot find in the market or big groceries. So I have alternated it with almond nuts or what they call badam in India. This nut is not that expensive compared to pistachio and walnut. I was able to buy 100 grams for only Rs.69 ($1.56).
I just used regular spaghetti pasta, but if you want you can also use penne pasta or fettuccine. About olive oil, I did not use that extra virgin, just the regular olive oil because that is a bit cheaper. Here in Mumbai the price of a regular olive oil in 200ml can was Rs149 ($3.38). So if you're a smart mommy just like me, you would go for something which is cheaper but does not have to compromise the taste of what you're going to cook.
I finish preparing this dish with the help of hubby because it was his off day. He was the one who grinded the toasted almonds and helped get the blender for the blanch spinach and fresh basil leaves. The scent of blended ingredients was really magnificent. The smell of garlic cloves with fresh basil, spinach, cheddar cheese, and almond brings me back to that same restaurant to where I order their seafood pesto.
A budget savvy recipe for pasta lovers!

Here are the basic ingredients for cooking chicken pesto pasta:
Chicken (breast part or any meaty part) – cut into cubes or smaller pieces
Spaghetti pasta (or any pasta of your choice)
Spinach (one bunch)
Fresh basil leaves (one bunch)
Garlic
Cheese (cheddar) if you have budget, use Parmesan and Regianno
Salt
Ground black pepper to taste
Olive oil
Almond nuts (if you can find pine nuts, the better)
Methods / Preparations for your Budget Savvy Chicken Pesto Pasta:
Step 1: For your pasta- Cook it as per instruction in the label, set aside when its cook and ready.
Step 2: For your spinach- Blanch it first before putting it in a blender together with fresh basil leaves.
Step 3: Cooking your chicken- Just put salt and ground black pepper on your chicken pieces and fry it using olive oil. Set aside when the meat is tender.
Step 4: Toast your almond nuts (or whatever nuts you have bought) and prepare to mix it with 5 garlic cloves. Put it in a grinder and once ready, you can now add it into the blender together with the rest of the ingredients which is the fresh basil leaves, spinach, cheddar cheese and olive oil. It is up to you what type of consistency you like. If you like it creamier then do not put too much olive oil.
Step 5: Once your pesto sauce is ready, you can now mix it with your pasta and fried chicken bits. This pesto sauce will last for quite some time so you need a container to put it in if you have extra. You can grate more cheese if you like and sprinkle some more of those grinded almond nuts.
This recipe is not that difficult to prepare. You just need patience in washing off those blenders and grinders and pots and pans once you finish cooking. I definitely enjoyed this delicious aromatic dish. I am sure you can cook this for your family and make them happy too.