What's BBCC if you may ask, well that's what I call in short for Blue Berry Cheese Cake. Anyone care to have a bite? It was an eggless cake for me so it is healthy. I am not that fuzzy about BBCC. As long as its soft and fluffy, that will all be fine.
Care for a bite?

By the way, the one you see on top of the cake was not a slice or piece of cheese but white chocolate. I thought, at first glance, it was a cheese. But when I touch it, it was hard and when I smelled it, it was white chocolate.
White chocolate on top, not cheese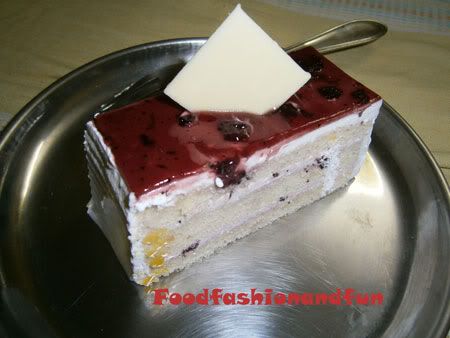 Of course, like most blue berry cheese cakes, it is with blue berry syrup and blue berries. Not that creamy and cheesy though. Just enough texture and not that sweet, that is okay for me. This piece costs only Rs55.00. I don't know if that is cheap for you, but worth it cost its eggless.