Matar Rice can be prepared into so many ways. I have seen a Matar Pulao before and it has more color on the rice and the preparation was different. But this one that I have prepared, I just used a regular rice and not Basmati Rice. I also included not so much masala or spices into it. I just wanted to prepare it simple as possible without anything that I could get off the rice like cloves or cinnamon bark when eating.
Matar Rice or Rice Peas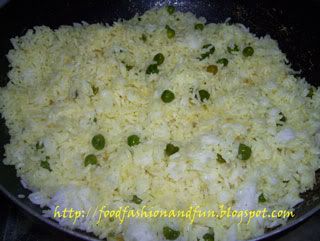 Ingredients for Matar Rice:
cooked rice
green peas (fresh or canned)
chopped onion
chopped garlic
pinch of turmeric powder
pinch of salt
vegetable oil
Preparation/ Method for Cooking Matar Rice or Rice Peas:
Saute garlic and onion on a heated oil in pan. Put salt to your onion to cook the onions well and after this, you need to put the turmeric powder. This will give the color to your rice. It will depend on how much turmeric you would put, but as for me, I opted to put less of it. If your onion is well done, you may now put your green peas and be sure that your stove flame is in medium heat. After stirring the peas, put some amount of water. Not too much water, your objective here is just to make the peas tender. You can check the peas after 10-15 minutes or if you think that the water you put dissolved already.
After the water is gone and you have checked that your peas is now okay to eat, you can now include the cooked rice. Just stir the rice very well so that all the peas and the oil with turmeric will blend well in it. Best when serve hot and steaming.
Cooked Rice mixed with the sauteed green peas

Again as I have said, this dish would be more lovely if you have been so creative and brave to include chilly spices. Mater Pulao is different and I don't claim that this is the same procedure. This is just my own rendition of a simple Matar Rice but is really delicious and my husband loved it.