This Holiday Season, I prepared a delicious creamy strawberry salad. Actually I have fruit salad too but this one is another. I didn't thought that hubby would buy a Mahabaleshwar strawberries which is really tempting to eat.
Mahabaleshwar Strawberries

Mahabaleshwar is a famous place in India that you can harvest the best and biggest strawberries in town. The cost is not that expensive compared to the strawberries you buy in the groceries since buying this type of strawberries in the local market would mean that you can haggle the vendors for their prices.
Mahabaleshwar Strawberries in my hands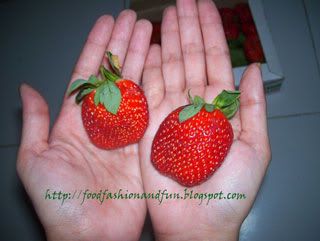 See how fresh are my strawberries? It was the biggest strawberries I have ever had and it was my first time to munch such a very yummy treat. Anyway, just to remind you that I have washed it first with a veggie wash before preparing it into creamy salad.
Here is what I wanted to share on Creamy Strawberry Salad:
Ingredients:
All Purpose Cream
Strawberries
Condense Milk
Method/ Preparations for Creamy Strawberry Salad:
Just mix all the ingredients given above and chill it inside the fridge. Slice the strawberries into quarters or to what you like before you mix it with the All Purpose Cream and Condense Milk. It was just so easy to prepare even your kids can help you prepare it. Best served when chilled.
Creamy Strawberry Salad

You can also eat this strawberries while they are with crumbled ice. Although the strawberries weren't that sweet, it just complimented on the all purpose cream and the condense milk that I have put. You can also include other fruits like pear and pearl balls if you like.
Taste test on Creamy Strawberry Salad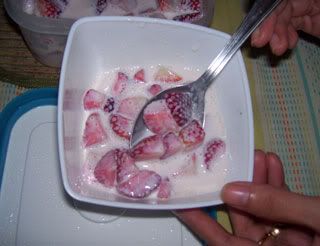 The All purpose cream was not that heavy. It was not what I really expected since I thought my creamy salad would be creamier and not juicier. But anyway, the condensed cream pulled it all together and glad hubby wasn't that choosy to eat what I gave him.
My Finish product

Just this morning I still have my remaining creamy strawberries in the fridge and I scoop out some and put it in our oatmeal for breakfast. It was really a good combination, very healthy and very lovely.