Ritebite Nutrition Bar is somewhat an energizer to people who are always on the go. It is a healthy snack which you can always carry along with you. I personally like to give this to hubby before he goes to work since it wasn't their style here to pack lunch and eat it. He prefers to eat hot steaming rice so I don't have anything to worry on preparing him food before going to work.
But instead, I usually gave him some snack items just like this handy chocolate bar. It comes with other flavors too if you buy it in a box which will have you a discount. I consider it healthy loaded with vitamins and minerals. But of course, there is no substitute with regards to fresh fruits. I don't mind to give him such but it was just his choice not to since he can easily pocket a bar of Rite bite rather than a banana or apple or any fruits that I can think of.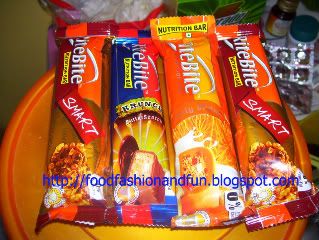 It was not a slimming bar, but mostly an energy bar which will perk you up on your busy day. Just perfect for a very busy person who has no time for going to the cafeteria to buy some snack. Ritebite has at least offered a discount when you purchase it in box.
Goody goodness from Ritebite, A Healthy Snack