Puri Bhaji are famous snacks here in India. Puris are said to be fried wheat flour balls with potatoes or green peas matched to it. Not stuffed inside, but the veggies are given as a dip which you can eat along with your puri.
Puri Bhaji for snack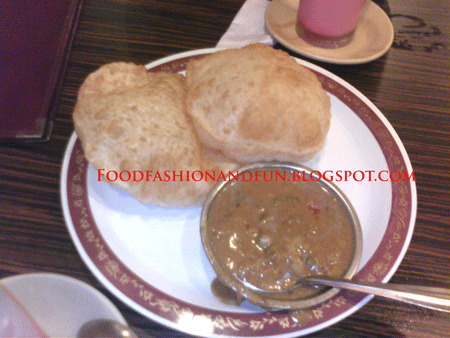 A matching Sweet and refreshing Falooda for my puri bhaji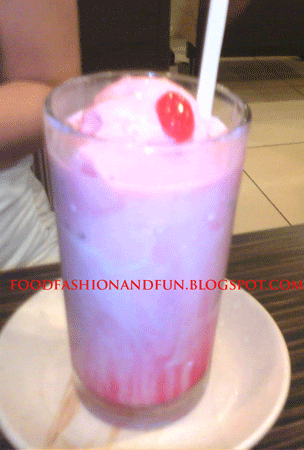 It will be really oily to eat but for me I only eat puris once in a while when travelling because we do get to order it in or favorite restaurant in Goa. I don't order it when we are in Mumbai because hubby is not into eating such, just don't ask me why, but it was not his type I guess.
Sorry if the picture wasn't that attractive enough and clear. It was just taken in a mobile camera because our digital cam got soaked inside our bag when heavy rains pour on us during our motor bike adventure vacation and it eventually gave up on us so we need to invest again with a new cam so that I can capture photos of what I cook or what I will showcase here in my blog.
What was interesting when you first glance at puris is that they are ballooned and puffy. I thought there was something inside of it. But when you split it open it was just air inside and you need to dip that fried wheat balls into the curry type masala of bhaji. Bhaji means vegetables. Since most Hindus are vegetarians, they do prefer to eat only foods which are purely vegetarian. Most of what puris match is potatoes and green peas with spices of course.
In this picture I have falooda as my refreshing drink for this puri. I really cannot miss falooda with ice cream because this is what I really do prefer to include when having this snack as well as it is really delicious and tempting. Well, I have gained another kilo with this short vacation trip but its worth it, I am still not that over weight to consider that my doctor asked me to gain weight before I give birth because I was under weight.
So for those who are mindful of their weights, you might as well skip this oily treat of puri. But it will not harm you if you have it in moderation, just for the sake of tasting it especially if you visit an authentic Indian restaurant; it is really worth a try.