Feels like a kid again having popsicles and ice cream on sticks. Who said that these cold sweets are for kids? It is also for adults just like me who wanted to feel nice once again and be refreshed by these wonderful sweet treats.
Hubby holding the icecream on sticks for me to take a quick snap!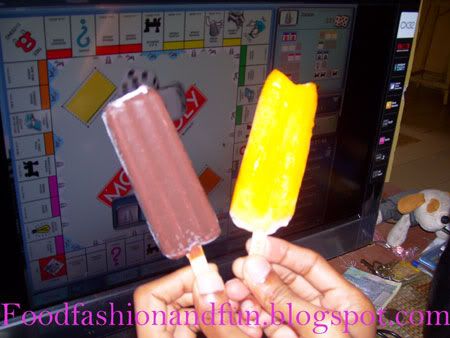 Got my internet connection disrupted for two days because of a dead phone and going to rent a computer is a long distance walk for a pregnant lady like me so I really burst into sweat whenever I reach back home. So I wanted to treat myself and my baby something cold, even if for a while and as I pass by a store that offers such, I grabbed the chance to buy. It was just costing around Rs12 rupees in different exciting flavors and brands to choose from.
I am not actually a buff for brands, I am just after the flavor of the ice cream on stick and I just selected raspberry, sweet mango and chocolate. But what I miss the most was ube- langka, cheese, buko, red munggo, nata de coco and other local ice drops we have back home in the Philippines.
It would be better if I have an ice cream maker at home but it is not yet included in my list to buy, maybe on my wish list, yes that is included. A home maker like me would also like to have a complete set of baking utensils and oven. Well, for now, I can just dream of it.
Going back to ice cream on sticks, I used to remember dirty ice cream or sorbetes being sold every afternoon and outside our public school. In a very hot and humid weather, this is the most perfect buy. I never wanted to miss out buying an ice cream in a cone, be it sweet cone or not. I haven't found any kid yet rejecting an ice cream offer, well maybe from a stranger, lolz! But as much as I know these will make one crying kid stop when you say "look, ice cream!"
I wasn't able to include the raspberry here, its finito!

I just limit myself to eat cold treats since I catch cough easily. I know that my spleen does not like those cold treats, it does make saliva sticky producing it to phlegm. Pardon for those who are eating while reading my post. But anyway as I have said earlier, we all do find a child in us every time we do enjoy such cold and sweet treats.
Disclaimer: This article is not a review of a certain product. It is not even paid for and I don't advertise it also. The topic posted was based on my own personal opinion and is not influenced by any advertising medium.