This is not what you typically think of curry like what you do for chicken. Since it's a veggie recipe today, I did name it curry because I have included fresh curry leaves into it. Curry leaves have strong scent and it will influence the taste of a dish once you have added it. I haven't seen or used curry leaves in my country because there was none available in the grocery or market. I just came to know about this wonderful herb when I came to live here in India.
Cauliflower cabbage curry recipe for vegetarians

If you're vegetarian, you might as well like to try this recipe because it's perfect and easy to prepare. Not unless you would like a non vegetarian meal, you can add fried fish into this lovely veggie curry and it will also be great. Since I am not familiar with most fishes here in India and I am really avoiding (honestly!) to eat fish because of its mercury content which will not be good for my pregnancy, I just opted to use fish broth cubes which I have taken with me here in India.
Anyway this meal consist of Indian spices but not chili or spicy to the tongue. You are the one to control the level of spice or chili content if you want more challenge to this dish. Here is the example list of ingredients needed for Cauliflower Cabbage Curry:
Cauliflower
Cabbage
Curry leaves (fresh, 5-6 pieces)
Onion (2 medium sized, chopped)
Green/Red chili- 2pcs.
Garlic- 2-3 cloves
Mustard seeds- 1 teaspoon
Turmeric powder- a pinch only
Coriander powder- 1 teaspoon
Chili powder- ½ teaspoon
Cumin powder- ½ teaspoon
Fish broth cube – 1
Salt-to taste
Ground black pepper- to taste
Vegetable oil
Water
Easy to prepare Cauliflower cabbage curry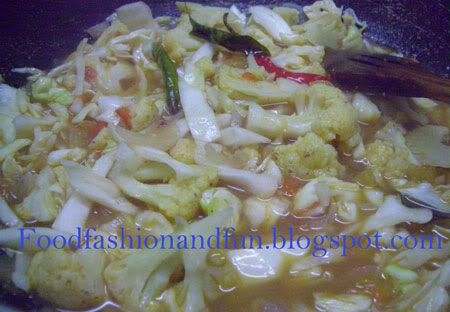 Procedure on how to prepare/ cook Cauliflower cabbage curry:
Step 1: Heat the pan and put oil and once the oil is ready you can now put cumin powder and mustard seeds into it. Once the seed crackles, the next step would be sautéing your garlic.
Step 2: If the garlic is light brown in color you can now add the onions. Sauté it well until it becomes translucent and put turmeric powder and salt into it. After this, you may now add the green and red chili and your curry leaves.
Step 3: Next step is to put the coriander powder and stir well so it won't stick at the bottom of the pan. After this you can now put the cauliflower. After 2 minutes, you can add 1 teacup of water and put the fish broth cubes. Wait for another minute before you put the cabbage strips and check the taste. If it needs more, then just sprinkle some salt and ground black pepper into it.
Step 4: Put the heat from medium to slow flame and do not overcook your veggies. If you have left over fried fish, you can include it in this dish and skip the fish broth cubes. I suggest that you use round scad (galunggong), fried milkfish or fried tilapia fish in this recipe. Hope to keep you posted for more recipes, Bon Appetit!