It's very rare to find broccoli in the market and I can only buy them in big groceries here in India. I don't know why the supply here is limited although cauliflower is too much and I can see them being sold at local public market by side street vendors' year round.
Beef Broccoli with buttered mushroom

A small portion of broccoli would be amounting to Rs 55+ which is very expensive too plus sometimes they don't even look so fresh. I just had an opportunity to buy a small piece so that I can try beef broccoli recipe which I just added fresh button mushrooms into it.
Here's a sample list of ingredients needed for Beef Broccoli with Mushroom:
Beef (500 grams)- cut into strips
Broccoli
Button mushrooms
Soy sauce
Oyster sauce
Sesame oil
Salt
Ground black pepper
Garlic paste
Beef stock
Butter
Cooking wine- (you can use cane vinegar if you don't have cooking wine)
Cornstarch
Water
Vegetable oil
Easy steps on How to Prepare Beef Broccoli with Mushroom:
Marinating the beef:
Step 1: Combine the following ingredients to marinate the beef (corn starch, salt, ground black pepper, garlic paste, soy sauce, white wine).
Step 2: Keep the beef marinated for an hour or two and keep it aside since you needed to blanch the broccoli.
For your beef broccoli sauce, combine the following ingredients:
(2tbsp. soy sauce, 1 tbsp. oyster sauce, 2 tbsp. vinegar or white wine, ½ tea cup of beef broth, 1 tbsp. of garlic paste, 1 tbsp. sesame oil, sprinkle of ground black pepper and salt to taste). Keep it aside.
Blanching the Broccoli:
Step 1: Heat water and when it reaches its boiling point, that's the time you need to put the broccoli. Be sure to wash and clean the broccoli first before blanching.
Step 2: Wait for 2-3 minutes and then drain the broccoli before placing it in cold water. In this way your broccoli would keep its fresh green color. Keep it aside.
Cooking the button mushroom:
Cooking the mushroom with butter

Step 1: Cut and slice the fresh button mushrooms and be sure that it's washed clean. If you're using canned mushroom, it's okay too.
Step 2: Heat a pan and put 1 tbsp of butter combined with 1 tbsp of vegetable oil. The next step is to put the mushrooms and let it simmer for quite some time to let the juice out of your mushroom. No need to add water into your mushroom since it will remove excess water and let it dry. Cook it using medium flame heat and keep it aside after 3-5 minutes of cooking.
Preparing to Cook your Beef Broccoli with Mushroom:
You need to dry off the water in your beef before putting cooking oil

Step 1: Once your beef is marinated, the next step is to heat up the pan and put the marinated beef in. Do not add any water or oil. The beef will automatically juice out the excess water and keep the flame into medium heat as you stir your beef.
Step 2: Once your beef is dry out, that is the time that you need to put ample amount of vegetable oil and fry your beef. Once it's fried, you need to put the sauce that you prepared for your beef broccoli. Stir the beef well and let it sip the beef for 5-7 minutes.
Delicious Beef Broccoli with mushroom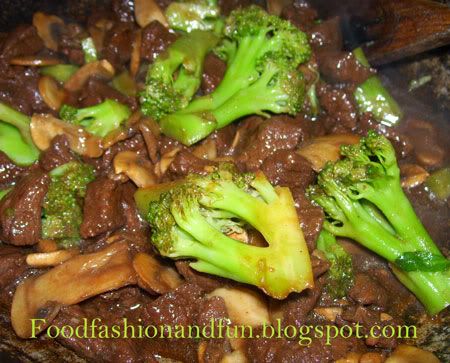 Step 3: You can now add your blanched broccoli and buttered mushroom and stir well together with the beef. You don't need to extend the time of cooking since the broccoli is done as well as the mushroom. You just need 1-2 minutes of cooking as you mix well the beef with the veggies. The final touch for this recipe is adding 2 tbsp. of water with cornstarch to make it creamy a bit and then you can now turn the stove off.
You can sprinkle spring onions if you like and it is optional also if you wanted to include sesame seeds but as for me, sesame oil was enough so I need not to put sesame seeds. Hope you did enjoy cooking this recipe as I did enjoy preparing it at home.