We have left over slices of melons in the fridge and I have used the blender to make a smoothie drink out of it. Since it was shop sale last Wednesday, we bought an ice drop molder which is only Rs79 and I said this will be perfect for a home made ice cold delight.
Melon flavored ice drop, Firm the way I like it!

Kids will surely love to hold such and even I myself can't deny that I do like to prepare such. It makes me feel younger like a kid whenever I taste and lick those ice candy or ice drops. I am sure I can make a lot of fruity flavors into it. Favorable for summer season especially when humidity is high. Everyone would like to sit down and enjoy ice drops or ice cream on sticks.
It is just simple and easy to prepare, all you need is a fruit of your choice, sugar, condensed or sweetened milk and water. Mix it on a blender and strain the bubbles and pour out the goodness to your ice drop molder. Put inside the freezer and wait for it to get icy cold and then once solid ice, you can now serve it to your family and have fun.
When pouring the liquid that you have blended, just don't let it overflow on the holding stick so that when you dip it in, nothing will be spilled over. As you can see on my molder, I have 7 pieces of soon to be ice drops. Oh, I really wish I could stuff more into it like dried fruits. But anyway, you can't go wrong with this molder. You don't even need an ice cream maker to create such to make kids go crazy. They will surely appreciate this wonderful fruity ice drop.
Pour the blended melon into the ice drop molder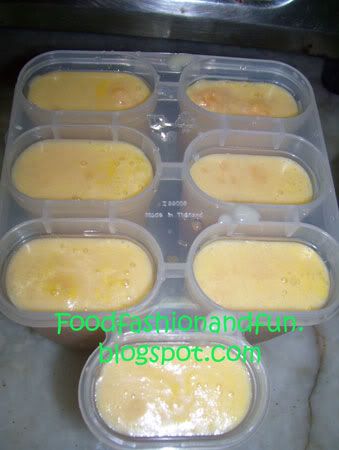 Standing straight and tall, I really like this molder

Attractive yellow star color for the holder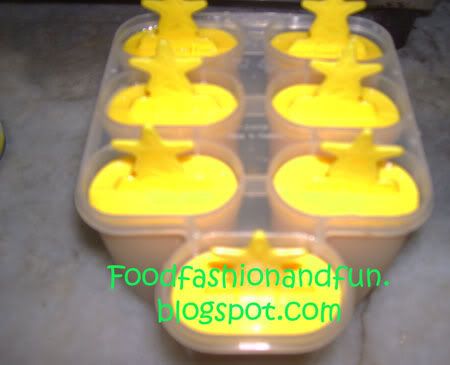 I used to remember when I was young; we do have this ice drop molder from Tupperware since my mother was a distributor. Although my mother is not using it as often as we kids want to. She is not also fond of making sweets, desserts and such. She doesn't even bake breads but our father does. But my mom is a good cook in terms of veggies and non veggie dishes. But she has her way of style and my father has too.
Anyway, going back to the finish product of the ice drop that I made, well it was perfect to the hold, it did not get lose and I finish one ice drop for less than 6 minutes without spills or cracks of ice. It was really firm and I was really happy that I have grabbed this molder on a sale; it was such a steal if you may ask me.
I guess making ice drops now will be a regular thing for me. Probably twice or thrice a month will do because I don't have to over do it and get cough or cold for eating too much of cold treats and sweets. I will keep you posted for more on my next adventure in the kitchen. Have a great weekend!