I was not talking about the color of the avocado but the price. This one small piece costs Rs52 already which is very expensive if I may compare it to the prices of delicious avocados in the Philippines. I picked it up in the grocery because I terribly miss the taste of avocado and in that grocery, they sell all smaller sizes of unripe avocados so what I did was I kept it in the rice container to keep it well done.
I bought this in green color, now it turned violet!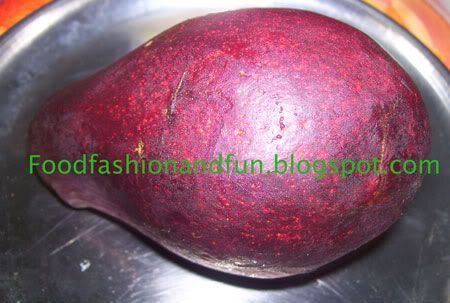 Three days past and the avocado is ripe and I just put sweetened milk into it. I didn't take a snap of the inside because it wasn't good to look at, there was a part which was brownish and I did not include scraping it off. It wasn't containing too much fiber so I boldly scrape off till the last portion. Put it back on the fridge to keep it cold and ate it. It wasn't that tasting great since it wasn't bought ripe in the first place. It has a bitter after taste and I don't know if I can make my hubby eat it later since I reserved something for him.
This is what I prepared for just one piece of avocado

What benefits do we usually get from avocados? Well, one thing I know of is Vit. E which is said to be good for our skin. But when I tried to research more I found out that there are more health benefits we can get in eating avocados.
Avocados can cure cancer cells like for breast and prostate gland based on some studies done by scientists. It can also lower cholesterol which is good for our heart. It is also a good source of glutathione which is an antioxidant that can delay the process of aging.
The only thing about avocados is that they are seasonal fruits. I really do have a difficult time searching for them but what I know is that they grow more in months of May to June. But I don't know here in India since I haven't seen a single street vendor who sells avocados in the public. Imagine I was able to grab this small sized unripe avocado in the big grocery, probably imported but I still doubt it because it wasn't export quality.
You can also try to put avocados in a blender and make a smoothie out of it. Some can also add whey protein and it is really rich and creamy even kids would like to have. I used to remember my auntie who makes ice candies out of avocados. It is really a refreshing treat during summer season and I always order avocado shake in our school canteen when I was in College.