I haven't tried to buy Parathas to any restaurants or food stalls in Mumbai but to Only Parathas. I think they are good when it comes to their parathas. By the way, parathas are Indian flat breads that are layered meaning, they can be stuffed inside with other foodies such as potatoes, green peas, cheese and more. But what I like the most is with cheese and nothing can go wrong with that.
Simply delicious Paratha

It is not that hot and spicy since it is still bread. Parathas are served with lentils and raitas. It can be shaped like square or round. But what we have was cut into triangle pieces. It was served hot and yummylicious. Parathas are made in wheat flour and can be served from breakfast to lunch or dinner. Well that depends if you don't mind this delicious flat bread as part of your meal but is sure is heavy on the belly.
What I enjoy most when I go to Only Parathas is that they combine this wonderful parathas with dal and chickpea and raita. At least my plate is full for the price of Rs180 exclusive of drinks of course. There are many ways how you stuff and cook your parathas. But it is sure captivating whenever you consider ordering one. If you may be able to order such in an Indian restaurant, try their cheese and aloo paratha.
Aloo means potatoes and you can dip and combine this wonderful meal in the way the Indians do it. Another thing that I like to order out was chicken tandoori and mutton kebab. Tandoori means grilled or barbecued. It is quite different from western style of barbecue and grill. Most tandoori chickens are colored orange and it is filled with Indian spices which you need to try out also.
Another classic favorite of mine was mutton kebab. It is also grilled and infused with Indian spices and I like it too. Whenever you order it in some restaurants, they will always include flat bread along with it so that the taste will perfectly match your tandoori or kebabs.
Some folks would enjoy their meal with hot drinks like Chai (tea) or coffee. Others would favor cold drinks like sodas or lassie. I don't mind what to pair with these delicious meals. You will enjoy it most if you use your fingers to finish the food. Next time, I will need to try out and showcase to you chole batura, bhel puris and other exciting Indian snacks. Some of these are street foods particularly bhel puris, vada pav, samosa and more.
Treat yourself once a while with chicken tandoori and mutton kebab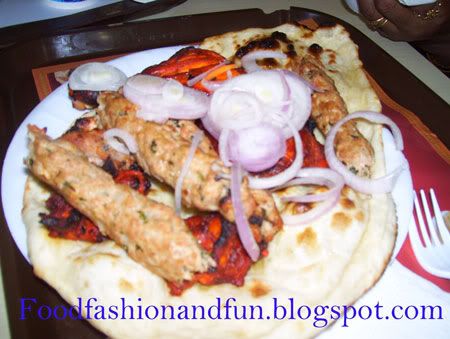 Other sweets such as Rasgola and Gulab jamun are those that are next in line. I always just forget to take snaps of them whenever we buy. Well, I just need to reserve such and discuss it here some other time.
Disclaimer: This article is not a review about the restaurant and it is not even paid. What I wrote was purely my opinion and has not been influenced by any advertising medium. I am also not endorsing the said establishment. It was part of my shared views as I am entitled to express my own opinion particularly here on my blog site.