We went to SM Mall of Asia last week since this was the first time that we spend a vacation with my mom-in-law. We stroll along Manila Bay View of SM MOA and enjoyed the sunset. We also played bowling because we changed our mind on ice skating spree since time is not enough for us.
Now when we got tired, it was time to go to our favorite hang-out restaurant which is Shakeys. One thing that I can say is that I like pizza and pasta and having this at Shakeys was really one of the best deals in town because the offer was cheaper but the quality was really great.
Well to start, we waited for our turn to be seated inside since I won't enjoy eating outside with all the smokers puffing their cigarettes. It took around 5 to 10 minutes to be seated that time and once we were seated, we were given the menu and we selected Shakeys Family Deal No. 1 since it was good for 3-4 persons. This menu includes:
Spaghetti Platter or Solo Pack Chick and chips (3 pcs. shakeys flavorful chicken)
Large thin crust (Managers choice*)
1 pitcher of House Blend Iced Tea
This Isn't Beer, its Blended Iced Tea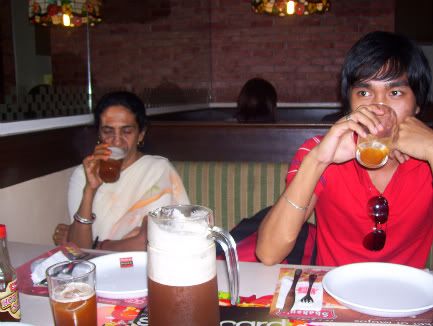 What we ordered was Carbonara instead of Spaghetti. The large thin crust of Manager's choice was just fine although we should have opted for another one but I was so tired to ask if that was possible. The pitcher of Iced tea was great although we were aiming to change it for another but they said they don't have an upgrade for that kind of order so we just settled for that selection.
Almost finish, good thing I clicked some

The price for our order was just P545 exclusive of 12% vat of course. So you just need to add that tax and you already know how much did we pay for our order. I have nothing against the taste of our orders. The pizza was really crunchy and the mozzarella cheese was really tempting. Every bite is really memorable since we don't enjoy this kind of Pizza in India. Sorry guys but this was just my personal opinion. I will never have the same pizza experience like this whenever I am in India. So again, the Iced tea blend was enjoyable as well but tasting much of lemonade rather than the tea.
Thin Crust Pizza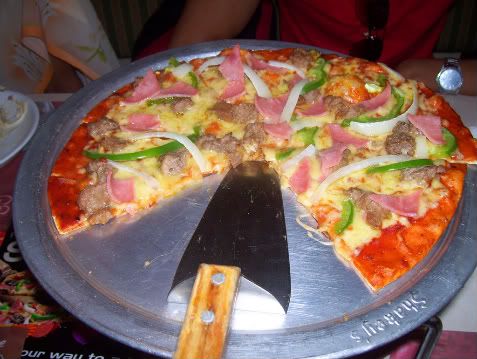 I am sure that my mother-in-law had experience eating Italian dishes for the first time since her tongue can always taste for masala and hot spices of India. But this time, it was Italian menu and I hope she did enjoy what we ate.
Isn't it Yummy!