Follow my blog with Bloglovin
I never thought that these two veggies can be combined in a beef recipe but it sure tastes lovely. The fried beef savored the taste to both as you put enough water to make it a little less soupy. Anyway, I did this recipe as another concoction of a beef masala but lesser in spices since I just used cinnamon stick and mustard seed for this one.
A New Dish to like, Beef Potato with Cauliflower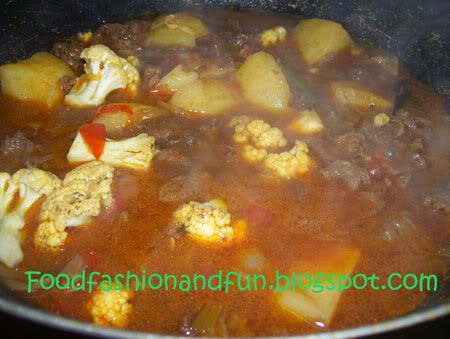 The reddish color that you can see is the result of tomatoes and red chili powder. It's up to you on how much you can add for the chili powder but a pinch of it will be enough if you don't want this dish too hot and spicy. This time, no curry leaves allowed so that it will not taste like a beef curry but instead the scent of cinnamon with tanginess of tomato and beefy goodness of the meat will be the one to invigorate the veggies.
Still cooking that is why it was steamy hot

Here is the sample list of ingredients for this recipe:
Beef (cut into thin strips)
2 medium sized onions (chopped)
3 cloves of garlic
¼ teaspoon of mustard seeds
Cinnamon stick (½ inch)
Spring onions (chopped)
Turmeric powder (a pinch)
Coriander powder (1 teaspoon)
Chili powder (½ teaspoon)
1 green chili
Lemon (one piece, squeeze)
Salt to taste
Soy sauce (2tbsp)
Beef bouillon (1 cube)
Ground black pepper (a pinch)
Water
Vegetable oil
Cauliflower (cut)
Potato (1 medium sized, quartered)
Tomato (1 medium sized, chopped)
Preparation/ Method on cooking Fried Beef Potato with Cauliflower:
Step 1: Marinate the Beef: Combine the following ingredients for the beef (salt, ground black pepper, lemon juice and soy sauce). Keep aside for 30 minutes before frying.
Step 2: Once your marinated beef is done, heat the pan and put the beef in. Let the juice come out of the beef and let it dry before putting the oil and fry the beef.
Step 3: Set aside the beef in the pan and put the following: mustard seeds, cinnamon stick, garlic, onions, chopped spring onions and tomatoes. Sauté them well and put turmeric powder. Next step is the green chili, coriander powder and chili powder. Stir them all together with the beef so that it will get the flavor in. Put the flame into medium to slow heat as you stir the beef.
Step 4: After 2 minutes you can now add water into the beef and put the beef bouillon cube. Simmer for another 5-8 minutes before placing the potatoes in. Check the potatoes if they are tender enough before putting the last veggie which is the cauliflower.
Step 5: Put salt if the taste is not yet enough. Do not overcook your veggies meaning cauliflower will only take 3 minutes of cooking on a covered pan.
I do hope you enjoy preparing this dish. It's all up to you to adjust the measures I gave since it is your tongue that will be the judge to your own home cooking. Most of all, enjoy cooking this for your family.