Chicken-Mushroom with Sooji Rawa - This recipe is just my own concoction as I combine chicken, mushroom and Sooji Rawa or Semolina. I was thinking about creamy mushroom delight with Chicken but since I don't have an all-purpose cream at that time, I decided to use Semolina to make something like a gravy type of sauce. It looks light and not a heavy type of creamy mushroom sauce. The trick was because I put only one cube of easy quick melt cheese to do the creamy stuff and sooji rawa to do some wonderful magic on the recipe. If you don't know anything about Sooji Rawa or where to get them, I suggest you visit a local organic store or store that sells organic foods and spices. Here is the recipe that I wanted to share with you:
Ingredients for Chicken-Mushroom with Sooji Rawa:
1/2 kilo of chicken
1- medium size onion
2-3 cloves of garlic
1 tsp. of Sooji rawa or semolina
1 pack of button mushroom
1 chicken bouillon cube (knorr or maggi)
knorr liquid seasoning (for seasoning the chicken)
salt to taste
ground blk. pepper for taste
2-3 tbsp. vegetable oil
1 cube quick melt cheese
Methods / Preparations for Chicken-Mushroom with Sooji Rawa:
Clean the chicken first and make sure you have scrub it with salt to remove the poignant smell. After this you need to put it in a pan with a small amount of water to make it tender before putting some oil to slightly fry it. Once your chicken is golden brown and ready, you can now saute garlic and then onion. Put some salt to your onion to cook it well. After this you need to put the button mushrooms and saute it together with the chicken as you sprinkle some liquid seasoning from knorr. I like this way so that it won't be so dark in color and that is why I don't use soy sauce for this recipe.
After this you can now put your chicken bouillon cube and put some ample amount of water for your chicken and mushroom to get tender. Simmer for around 3-5 minutes and check the taste. If it needs salt, just put some salt and then sprinkle some ground black pepper. Once the water is less you need to put the sooji rawa and stir it a bit so that it will spread together with the chicken and mushroom. To make the sauce a bit gravy, put the cube of quick melt cheese. Simmer for some more time and presto, your Chicken-mushroom with sooji rawa is now ready.
I just put a pinch of poppy seed here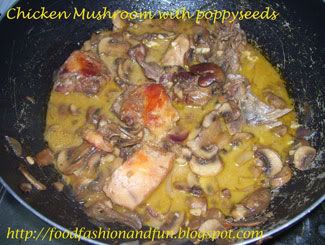 If you don't have poppy seeds, its just fine. The recipe will still be as delicious as this. Although I really wanted the chicken to be fried so the color looks a bit more brown but yummy for me.
You would not be able to see the Sooji Rawa or Semolina here