Christmas is in the air and sweets for gift giving is also possible. It was one of the best and nicest thing that a kid can enjoy and no one can resist. That is why me and hubby have decided to buy something sweet like chocolates for gift giving this Christmas.
Sweet Chocolate for a Christmas Gift

I like this type of chocolate which is with almond. But the thing that a buyer can be attracted when buying it was the box since you can recycle it. There are lots of goodies with promo or discounted price during this festive season. You can get the advantage when you buy a whole pack or promo pack.
Freebie Chocolates that I got when we buy Vintage Chocolates

Round bits of Choco with Almonds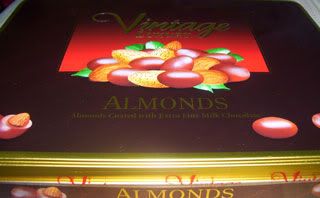 You don't need to spend too much on sweets like chocolates. I was just happy that they offered the most cheapest price without sacrificing the quality of the chocolates. One of the local chocolates that I started to like was Amul Chocolates. We also bought an assorted chocolate and I cannot believe that the taste of it was similar to the most branded chocolate I like. Although the difference obviously was the price.
Amul Assorted Chocolate

Amul is just a local brand of Chocolate in India but it was really delicious and yummy. I like it since it is also affordable compare to other chocolates. It competes with other branded chocolates available in the market. I personally like the packaging which is presentable.