We have a lovely melon at home that I make a smoothie out of it so this will be my entry for today's blog. I don't have much collection of fruit drinks here but it will be a good start for me to line them up and start also a series of lovely fruit or cocktail drinks. Anyway this one is so easy to prepare and you can add so many things to it according to your liking.
Melon Shake Anyone?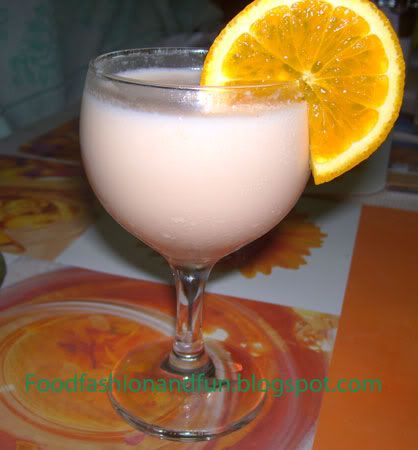 Melon fruit shake or cantaloupe is one of my favorite fruit smoothies. My mom used to prepare this by scraping out the flesh of the melon (of course the seeds are already taken off) and then mix it with evaporated milk and course white sugar and ice. This preparation needs no blender or mixer. You just need purified water and mix the said ingredients.
What I did for today was use a blender because I don't have a fruit scrapper just what my mom used to make. I included condensed milk (sweetened) instead of using evaporated milk. I also included two drops of vanilla, crushed ice and water. You can also include any whey protein powder here if you have so that it will be healthier.
Melon has cooling properties and it is also rich in fiber which helps you in your digestion. But about the milk, well of course if you're lactose intolerant then I suggest you skip on the milk and just use honey, few drops of lemon juice and sugar for a little bit of a twist in taste.
Eating melon is good for the skin, it rejuvenates and it cleanses our digestive system giving us a healthier glow. Just be sure that you chew this fruit well and not just swallow it. There are different varieties of melons in the market but I sure hope you know how to select a sweet melon or cantaloupe.
Cantaloupe smoothie, one of my favorite!

The outer skin should be firm and has no sign or color of a bruise (brownish) in color. Melons are pretty obvious fruits when sweet; the scent is really magnificent and enticing. If you think you cannot smell anything about the cantaloupe or melon that you are holding, then just skip it, it is not yet that ripe and done.
Once you make melon juice or melon smoothie, be sure to drink it and finish it all. Any left over in the fridge and keeping it for more than hours will make it taste a bit bitter especially if you have scrapped the bottom part of it near its skin. Make sure that you don't include the white part of it because this will add only bitterness to your drink.
The clearance for carving off the melon flesh is that there is still color, not the pale white or greenish. You may filter the seeds and juice it up a bit before throwing it in the bin. You can try to combine other fruits like bananas in your melon smoothie to make it more exciting, but if you don't like such, then leave it as is. Hope you do like to try cantaloupe shake to freshen you up when you feel hot.