I spoke to my mom who was busy preparing dinner at home and it was really something that I wanted to cook but we don't have available chayote here in India. Chayote or sayote in tagalog is also named vegetable pear, christophene, pear squash and chu chu in Brazil.
It was really seldom to find such vegetable here in Mumbai so I guess I'd be skipping to cook this recipe for now and just look at its picture on where my mom sends because she was able to finish cooking the dish right before I signed off.
Anyway, it was sautéed chayote with carrot, red bell peppers, celery and prawns. It does look a lot like Chinese chopsuey, but it's not because the veggies are just not complete, but the sauce gravy consistency is just the same like cooking Chopsuey.
Delicious Sauteed Chayote with Prawns

Chayote by the way is rich in amino acid and vitamin C. You can also eat the stems and leaves of chayote and there are more delightful recipes that I can share here if I'm only in the Philippines. You don't need to put lots of water when preparing this vegetable dish because chayote themselves takes off water when being cooked. Here are the basic ingredients you needed if you want to try this dish:
Basic Ingredients needed for this delicious recipe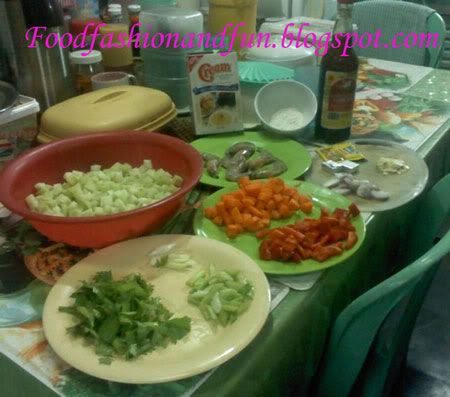 Ingredients:
Prawns or shrimps
Chayote
Celery
Carrot
Red bell peppers
Leeks
Chicken stock or chicken broth cubes
Garlic (4-5 cloves)
Onions (chopped)
Corn starch (for thickening the sauce)
Soya sauce
Maggi ginisa flavor mix
Salt
Ground black pepper
Vegetable oil
For the methods of preparing this dish, well just like the regular sautéed recipe, you needed to heat the oil in a pan and sauté the shrimp in garlic and onion. You may have other options to consider when sautéing but the important things here is that never ever overcook your veggie especially the chayote which is easier to cook. It can be cook for about 3-5 minutes and when you overcook it, it will be soft like cotton and brownish in color so I suggest not covering the pan and keeping the flame into slow to medium heat only.
It is not also good to eat overcooked celery since celery can be eaten fresh and crispy. About the carrot and red bell peppers treat it the same with celery. So the tip here is that you need to keep their colors the same. It is also a recipe that does not need a lot of water to make your recipe swimming like a soup. This one is only gravy, saucy type of dish. Perfect to combine with any fried fish or meat. Serve also with hot steamy rice of course. If you're vegetarian, just skip on using shrimps or prawns and just go along with the veggies. I really like how my mom cooks her veggie dishes, two thumbs up. It will never ever be overcooked because she knows the secret of how to keep it fresh, retain its colors and yet well cooked.