I would like to use the pasta that we bought so I tried to cook a different approach carbonara. Capellini is Pasta which is thinner than the regular spaghetti pasta. What I have was no. 1 so it was really fine in texture and thinner but I don't mind to use it for my carbonara recipe.
Pasta Sunday, sit back, relax and enjoy this meal!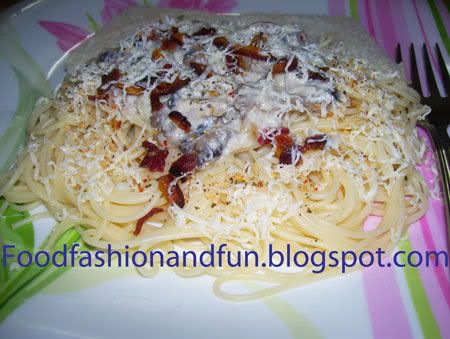 What I did for my carbonara today is simply different from the carbonara ala pobre that I have showcased here, you can check that recipe here if you want to...
Macaroni Carbonara ala Pobre
I didn't include any all purpose cream for my dish today. So what I incorporated was egg and fresh milk which was just perfect for the cream of my pasta. The taste was even as close to authentic Italian carbonara which they only use egg and cheese for their sauce and without any mushrooms and heavy cream.
What I do like in this recipe was that the sauce was just right to the taste when I sauté it in garlic and onion. I just sprinkled some Maggi ginisa mix to my mushrooms to have a salty taste. I didn't put more salt because what invigorates this dish is the pancetta which is the Italian bacon.
I had compromised for today since we don't eat pork, but for the sake of trying to cook this recipe, I did include it but for those who don't eat pork, you can just skip on including the bacon and try chicken instead.
This pasta could have been much better if there was a Pizza! woohlala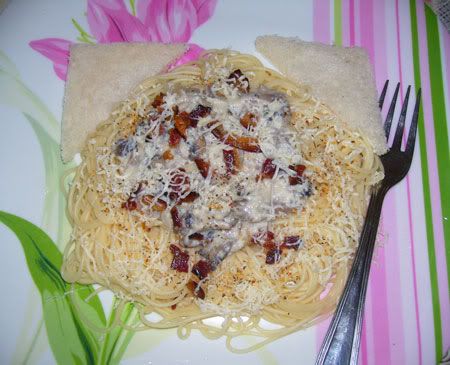 If you are also going to use capellini, you need to just boil it for 4 minutes and don't overcook this pasta else you will be very disappointed. It is thin so the moment your 4 minutes of cooking is done, drain its water and wash it off in cold running water and set it aside while you prepare your sauce.
Preparing this meal is easy since you only need to sauté your mushroom for 5 minutes and then mix the sauce (egg and fresh milk) into it. Just don't forget the grated cheese. You can use pecorino or parmesan cheese but if you don't have a budget for such expensive cheese, then regular cheddar cheese would do.
Capellini pasta in carbonara with pancetta bits sprinkled with oregano and spices

You can now garnish your pasta with the creamy sauce that you make and sprinkle it with pancetta, cheese and parsley. But on my part, what I did sprinkle on top of my capellini carbonara was oregano bits mixed with some ready-made spices.
This dish is perfect to match with garlic bread or any toasted bread of your choice. It can be your perfect lunch or dinner, or snack whatever you may like it to be served. Just another Sunday to relax and unwind with the family and this is pasta time for us. So friends, here is what I wanted to share for this day. Hope you do like this recipe. If you do have questions on this recipe, you may leave me a comment here or write me and I will be happy to reply you back.