This was the samosa I was talking you about. It is a stuffed pastry snack which is popular in India. There are different versions on how people cook it but definitely you can only be assured that potatoes and green peas will always be included inside a veggie samosa.
Crunchy and tasty veggie samosa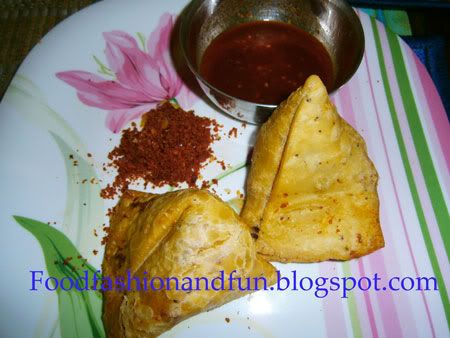 This type of samosa is what we usually buy near our place. Every time we buy a samosa, they will give us a spicy chili sauce, fried green chili and a combination of this orange colored crusted crumb which is a combination of spices, crumbs and dried coconut shreds.
Samosa, a favorite snack here in India

Some samosas are with chutneys for sauce. But what I like in the way they prepare this samosa is that it wasn't that oily. Most of the samosa we order inside the train while traveling was really oily and I don't like their preparations. You can only enjoy samosa when it is hot and newly cooked because if it is cold, it will not be that crunchy but mushy to the bite.
Just expect that samosas will be hot to the taste, but not all since they prepare it in different ways. Samosas are triangular in shape and they are somewhat related to stuffed crusted snack we call empanada.
Samosas are deeply fried in oil to cook it well. I have also tasted some non vegetarian samosas in Goa and they are one of the best alternative. I did enjoy eating shrimp samosa and beef samosa, yummy and delicious as what my mouth can say. Wish that someday soon I will be able to make my own home made samosa.