Ginata means with coconut milk while Halo-halo means a mixture. This is a famous snack or meryenda in my country Philippines. I really do miss this recipe so I have decided why not try it at home especially hubby's birthday is just around the corner and I can still gather some of the ingredients here in India although I failed searching for jackfruit and gluten rice. Last two months ago jackfruit was in season and it's been available in the street and in grocery, but at this point in time, I haven't seen any, probably the season was over so no vendor is selling it here.
Ginataang Halo-halo anyone?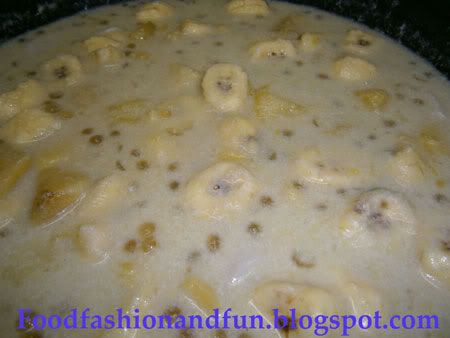 About the gluten rice, well they really don't have sticky rice so what I did to compensate the remaining ingredient is to get rice flour. I did some testing first before I put it in coconut milk. I did put the bilo-bilo in the boiling water and this was good to remove the floury taste. The rest of the root crop is available in India year round like the sweet potato, taro root and the yam. Although in Philippines, we have purple yams which are attractive to look at when you cook. But here in India, they only have the yellow variety so my yam looks a lot like sweet potato.
By the way the tapioca or pearl balls, I got that in my country, I haven't seen it here in India or where to buy it. About the coconut milk, well I have used two bowls full so that it can be enough for my recipe. Here are the ingredients needed for Ginataang Halo-halo:
Yam (ube) – ¼ kilo
Taro(gabi)- 4 small pieces
Sweet potato- 2 big pieces
Plantain(saba)- 6-8 pieces
Coconut milk- (6-7 cups)
Sugar (2 cups)
Tapioca- (1/4 cup)
Jackfruit-(1/4 kilo)
Bilo-bilo (gluten rice) / or you can also use rice flour
Pandan(screw pine)- optional
Some of the ingredients for Ginataang Halo-halo

Procedure / Methods of Cooking and Preparing Ginataang Halo-halo:
For Bilo-bilo:
I just made 20 pieces and this depends on you. Since I just used rice flour which is not that appealing to my own taste since there was no sticky rice (gluten) available, what you need to do here is to put ample amount of water in your rice flour and make small balls and boil water. Wait for the boiling point before you place the bilo-bilo. You need to wait 5-8 minutes and set this aside before placing it in the coconut milk later.
Bilo-bilo, better if it was the sticky rice (galapong)

For Tapioca / Pearl Balls: Soak in water for 15 to 20 minutes first. After this boil water and put the tapioca balls. Once you see it's soft and tender, keep it aside for the next step of cooking.
Tapioca or Pearl balls with Banana Plantain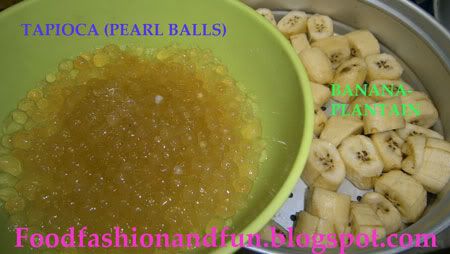 Step 1: Boil half cup water and put one bowl of coconut milk and pandan (if you have). After two minutes, you have to put the yam first, then after 6 minutes, you can now add the sweet potato and taro root and add the cup of sugar. Stir gently and wait for the root crops to get soft before putting the next ingredients which is your bilo-bilo, plantain and tapioca. If you have jackfruit, you can include it with these three.
Miss eating Ginataang Halo-halo, and now I can enjoy!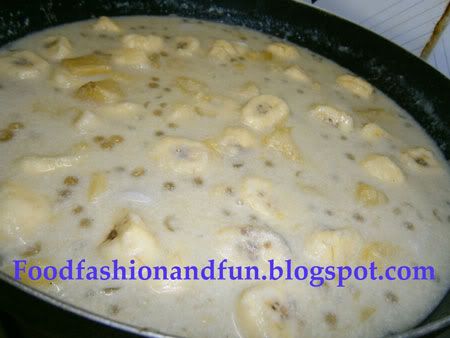 Step 2: Before putting the last three ingredients, add the remaining bowl of coconut milk. This will help get it creamier and just taste it if you still need to add more sugar into your Ginataan. Usually, this recipe will be ready in 30-40 minutes, depending on you. For me, I keep it in slow flame on the last 15 minutes of cooking it, the first part of cooking I put it into high and medium flame.
Much better if I was able to find jackfruit

Ginataang Halo-halo is usually served as a snack or meryenda. It can also be served hot or cold depending on your preference.