Macaroni salad is over, now let's try potato salad. This is still the continuation of my creamy series where I needed to finish up that all purpose cream that I have inside the fridge. Actually this recipe I have twisted a bit since I don't have other ingredients like mayo, mustard paste and sweet pickle relish so what I did to improvised for the missing ingredient was to use Thousand Island dressing which has sweet pickle relish into it and I didn't regret it, the taste was just superb.
Don't blame me, it's really creamy the way I want it!

It is just easy to prepare just boil the potatoes and cut them into bigger chunks and don't overcook those potatoes because you are not preparing mash potatoes but a salad and you need to stir other ingredient into it so be extra careful not to crush the potatoes. I am sure it won't be if you have cooked the potatoes right.
Sorry folks the cream really covered the ingredients obviously!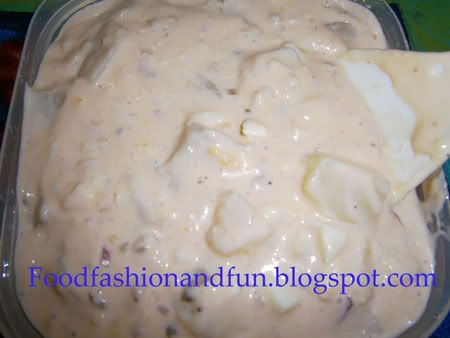 I was able to make 2 bowls full for 4 medium sized potatoes

Here are some ingredients you may need for the salad:
4 medium sized potatoes (boiled and sliced into bigger chunks)
Onions (chopped into bits)
Thousand island dressing (just in case you don't have mayo, pickle relish and mustard sauce)
All purpose cream
4 eggs (hard boiled)
Sweetened milk
Salt and pepper
4 medium sized potatoes can serve 20+ people

Mix all the said ingredients above. If you have noticed I didn't put any amount of measurements since you will be the one to measure it according to your liking. These 4 medium potatoes gave me two big bowls full which is good to serve 20 plus people. I just used one and a half cup of all purpose cream, ¾ cup of sweetened milk, half cup of Thousand Island dressing.
About the egg, you just need to mash the egg yolk and slice the egg whites into smaller bits and pour it into the mixture together with the chopped onions. Just season your salad with salt and ground black pepper and put inside the fridge. Some would include vinegar into their dressing, but as for me the Thousand Island dressing is perfect so I did not include any vinegar. You can include some cayenne or paprika for coloring only and some flavor but at this preparation, I did not include any. Enjoy your salad with buttered bread or side dish it with your favorite fried chicken.