It's not what you think it is, this is not the famous calamari where it is coated with egg, flour and some seasonings. What I did was just marinating it with turmeric, salt and chili powder before frying. I haven't written something about it when I checked my blog so I just posted it now, even though I always cook it at home.
Crispy Fried Squid with Chicken Biryani, Cucumber and Thousand Island Dressing

Now, if you may say this one is really frying because it is also popping. Be careful when frying squid, it will spatter hot oil on your skin so be prepared to use a lid or cover whenever you fry. The reason why is that the squid takes off liquid and second is that it does not have any flour coating so the tendency when you cook it in hot oil, the oil itself spills on the side of the lid sliding the liquid along with the oil.
Anyway, if you haven't tried this recipe, you should, it is tasty and there is a good amount of hotness or chill in the tongue because of the chili powder. Just put the flame from medium to slow. You don't need a high flame just to cook the squid well. It is much better if you dry the squid first by letting the liquid out and once it dried, put the oil and be sure the flame is in slow only. It will be cooked equally as long as you turn the other side around.
Marinated with turmeric, salt and chili powder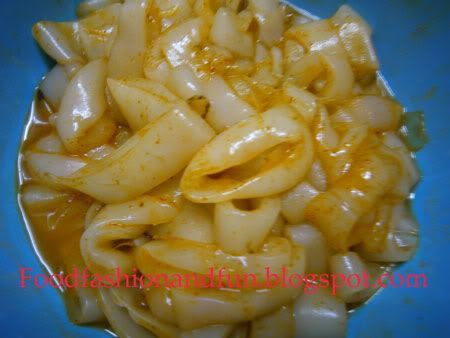 It just so happen that I was having my chicken biryani when I cooked the squid and I put a little dressing like Thousand Islands for my crunchy cucumber. It was fantastic and I really love the crispiness of the squid rings.
My Lovely Dinner! I like how crispy the fried squid was

By the way before I forgot, the squid was cleaned off of its ink sac and cuttlebone (plastic looking) inside the squid. So cut it into rings and wash it thoroughly before marinating it with the ingredients I mentioned above.