I didn't cooked today so I just asked hubby to buy something to eat which is noodles. Well the only noodle type which I can eat here without complaint is their egg noodle. I don't like the vermicelli in India since it is small, cut into bits and was never the type of vermicelli or bean thread that I used to enjoy when I am in my country Philippines.
Egg Noodles with Mushroom and Capsicum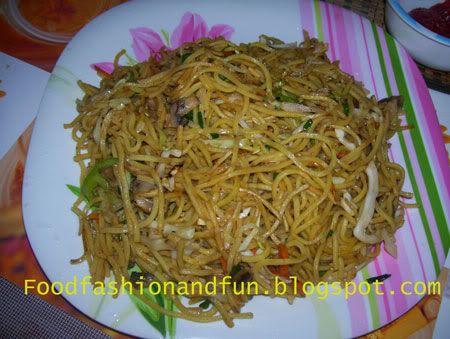 The noodles that they say "Chinese cuisines" here in India are mainly egg noodles even if we know that there are lots of varieties of noodles from China itself or from my own country. I never had pancit here like palabok or pancit luglug, pancit malabon, pancit lomi, pancit guisado (or bean thread noodle). Not to mention some Japanese noodles like Ramen and other thin strips of noodles.
What I noticed on noodles here even if it's in a cup or packed was that it drains the water out of it. Meaning, when I cooked a packet of noodle soup (just like Maggi) for example, well even if how much water I put in, the noodles would sip it and there you go, no soup to sip since the noodles drink it all. It is kinda weird for me because I do enjoy sipping noodle soups back home, when in here, yucks it is really disappointing, it pot gets dry and the noodles so sticky since it gets to absorb all the water.
Noodles with red chili paste for extra flavorings

Anyway, so much for the complaints and I just wanted to share the taste of which this dish gives me. Its kinda smoky in taste, maybe the Chef burnt it since the smell itself tells me it's been burnt on a high flame. It has button mushrooms into it with veggies such as shredded cabbage, thin stripped capsicum which is still raw and carrots.
They always give extra flavorings in their noodles like soya sauce, masala or some spicy sauce which you put into your noodle. The one that was red there was the paste which you mixed with the noodles to give it a spicy flavor. Well it is up to you if you like to combine it or not, anyway it's free.
I was asking to match it with a mutton curry but hubby wasn't able to find any mutton dish at that restaurant so I said, okay, we will just have this noodle and eat our watermelon afterwards. I just hope I can cook something at night with that remaining chicken meat. Anyway, have a nice and relaxing Sunday and don't forget the Lord's Day.