Parwal, Parval, Potol or in English Pointed Gourd is one vegetable that I have tasted in India. It is not available in my country Philippines and I don't know why since Philippines and India are just the same in weather condition. But anyway, when I tasted this vegetable as my mother in law fried it, I really liked it. It tasted much yummier than fried eggplant.
Fresh Pointed Gourd or Parwal

It is crunchy specially the seeds of it. You can cook it in different ways. You can sauté it, curry, fry, or anything else that I can see online when traditional Indian cooking is concern. From different states and regions of India, they have a vast selection of recipes including this veggie.
Trichosanthes dioica is rich in Vitamins A and C and has also trace minerals of potassium, magnesium and copper. It is a vine plant which is similar to squash and cucumber. It is small, round to thick in size that grows 5-15cm and it grows in a hot and humid weather condition.
When the seeds inside are darker in color, it means it is kinda older, but when it was just white, it is still young and tender.
Fried Parwal with Sponge gourd curry and hot rice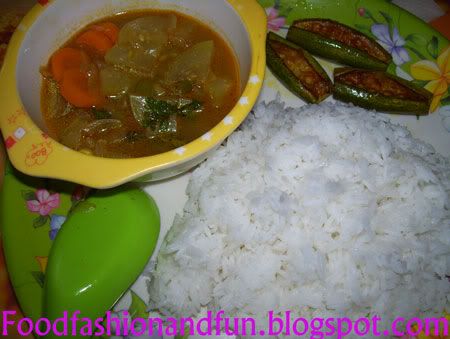 What I just did here was marinate it with salt, turmeric powder and red chili powder. You need to put in a container and shake it well so that the powders can mix well with salt and your parwal will be very tasty when fried. The longer you marinate it the better. You don't need to put too much oil when frying it. Just a small amount will do and when you know that the color turned brownish, it is done.
I do enjoy eating this veggie with any food which is curried or with any soup. In the picture that I showed I paired it along with sponge gourd curry. Next time I will try to cook parwal with potatoes, the Gujarati style.