At last a goat's meat for dinner and hubby bought it in a local market nearby which costs about Rs140 for 500 grams. I was thinking that it is good for caldereta but I don't have any caldereta mix with me, I just told my husband to cook curry the way he likes it.
It was his off day so he has the time to prepare this wonderful dish and all I need to do is to help him with the preparations like cutting the onions, setting aside the spices or masala needed for the curry and of course cleaning and boiling the goat's meat first.
You can see mustard seed and jeera in this Mutton Curry recipe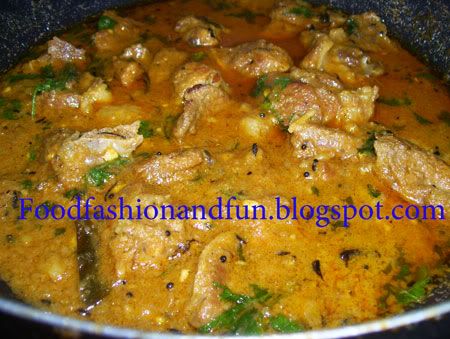 Mutton needs to be boiled first to get the meat tenderized. We did choose a portion with meat and bone parts so that the curry would be so thick, rich and yummy. The coconut milk is perfect to make the curry very rich in taste and the taste really sticks to the bone. But if you think this curry is like any other curry, well it is not since it is not reddish in color but more on yellowish. It is also chili hot and if you don't like hot and spicy foods, then this dish is really not for you.
Rich and Thick Mutton Curry sprinkled with Coriander leaves

I really got used of eating foods with spice but I just know how to limit myself on what I can take since too much spice is not also good for me and I am already having breakouts on my face. Anyway, it's just once a while that we do eat mutton since it is much cheaper to consider other meat like chicken and beef.
We don't have potatoes at the moment, but we can include potatoes in this dish. The finishing touches for completing this dish are the fresh coriander leaves. This makes the taste of every curry much more interesting aside from the curry leaves that we also included in this meal.