I didn't want to stress much to think on what to cook so I just prepared an easy recipe which is sautéed spinach. Just make sure to buy the fresh bunch of spinach and wash it carefully before preparation since there will be soil residue on the stems of spinach, not unless you buy it in a grocery where it is already packed and cleaned which is not like you buy in a local market.
Nutritious Sautéed Spinach

I have tried a lot of great and easy to cook spinach recipes and I may include this one also. No need to include spices but just the regular ingredients you have in your kitchen like garlic, onion, soy sauce and ground black pepper.
When cooking spinach, do not cover it so that the color will still remain greenish and not that dark. Anyway, when we sauté this wonderful veggie, don't use dark soy sauce, but the regular Chinese soya sauce. If you have a veggie wash, it is much better to use it as you soak and clean the leaves of spinach. Here is the sample easy to cook recipe for Sautéed Spinach:
Steamy hot spinach!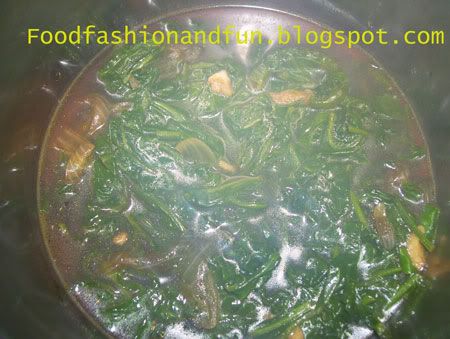 Ingredients:
Bunch of fresh green spinach
1 medium onion (chopped)
2 cloves of garlic (chopped)
Oil
Soya sauce
Salt
Ground black pepper
1 green chili (optional)
Water
Preparation / Method on how to cook Sautéed Spinach:
Step 1: Wash the spinach well and cut it like 1-2 inches wide since this veggie will get smaller once cooked.
Step 2: Heat oil in a pan and sauté garlic and onion in it, then once it is light brown you can add the green chili. Add the Spinach and put 2-3 tbsp. of soya sauce. Keep the flame into medium heat and add about half teacup water. Season with salt and ground black pepper and keep the flame slow and cook the veggie for 2 to 3 minutes more without covering or putting a lid. Serve hot with rice and this dish match perfectly with any kinds of fried meat or fish.