It was my birthday yesterday but I don't have anything to prepare and cook so we dine out to eat and had some grocery shopping for our stock this week. I don't have anything in mind on what to cook but when I opened the fridge, I do have some veggies like celery, carrot and protein rich button mushrooms. I also have small portion of chicken and hotdog in the freezer so I decided why not make some Pancit Sotanghon (Vermicelli) bean thread.
Good thing that I bought this back home since the Vermicelli style in India will never be the same pancit like what we have in the Philippines. I was really hungry on what to eat since I am also choosy and craving for certain foods to eat. Now that I am pregnant, I do need to eat healthy food plus the doctor also told me that I needed to gain more weight. Well, not to get you confuse about the gain weight since Pancit Sotanghon has nothing to do to give you extra weight. What I am just telling is that I need to force myself and eat so that I can gain something.
Back to Pancit Sotanghon well it is one of the dishes prepared especially by Filipinos if there are certain occasions and parties like Birthday. It said that we got this influence because of the Chinese that believes that preparing or having Pancit or noodles on birthdays symbolizes long life. But to believe or not, the main thing that I just have in mind is to eat and enjoy eating it, nothing more, nothing less. So here is my version of this days Pancit Sotanghon for lunch:
Ingredients:
4 mini bonds of vermicelli (bean thread noodles)
330 grams chicken
4 pcs. Hotdog
Button mushrooms
4 pcs. Crab sticks
Chicken stock
Onion (chopped)
2 cloves of garlic (chopped)
Celery
Carrot
Ground black pepper
Salt( to taste)
Fish sauce
Soy sauce
2 eggs (boiled and sliced for toppings) - optional
2 tbsp. Vegetable oil
Sample of the Finish Product, heheh! Yummy Panict Sotanghon Guisado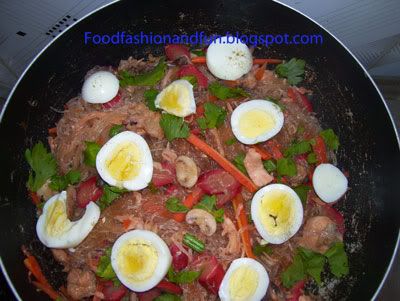 My lovely lunch, Pancit Sotanghon Guisado and Orange Juice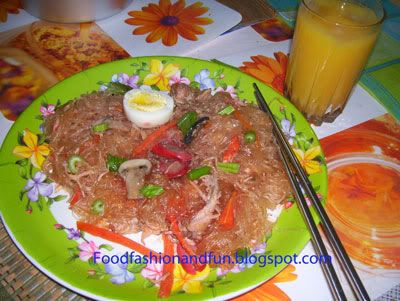 Just read the continuation of this wonderful recipe. I posted there the preparations and methods on how to cook this delectable meal. Bon Appetit!