I got interested seeing this recipe made by a famous chef in India. It was really delicious and it gave me an idea of what to do with soft type of tofu. I have mentioned on my previous blog that there are different types of tofu. Some can be fried straight away and some are not since they are so soft that it sticks at the bottom of the pan because the consistency and texture of the tofu is not made for frying. Now, that I have seen this recipe, I got interested on what to do next on tofu.
Delicious and exciting to eat Chili Tofu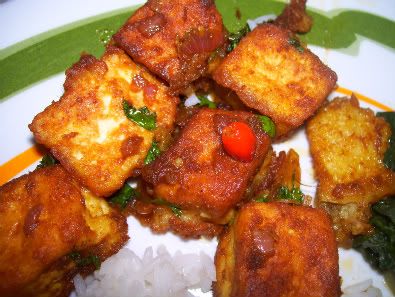 Some Asian countries do include tofu for salad. But I cannot do the same since it's a no-no for pregnant women to eat raw foods like fish, egg, etc. Anyway, this recipe was really nutritious and delicious that your kids would even like (not unless they don't eat prefer hot and chili foods). But here in India, where most of the foods are hot and with spices and chili, it is not a big issue, it's part of their culture.
I don't have capsicum at this time since this recipe would need yellow and red capsicum to make it more colorful and tempting. But if you are just like me who just dared to try the recipe, then don't hesitate and check your fridge if you have the main ingredients like the spices and tofu. Here is the instruction of how to make Chili Tofu:
Ingredients for Chili Tofu:
200 grams soya tofu (cut in bigger cubes)
Ginger garlic paste
Red chili powder
Salt (to taste)
Coriander powder
Jeera seeds
Vegetable oil
Green chili (chopped)
Turmeric
2tbsp. water
1 egg
Curry leaves
Coriander leaves
1 lemon or lime
Soya sauce
2 cloves of garlic (chopped)
2 tbsp. corn flour
2 tbsp. maida/ flour
Preparations / Methods for cooking Chili Tofu:
Step 1: Mix the following: Egg, flour, corn flour, water, ginger-garlic paste and blend the tofu in to sink into the mixed paste. Fry it in hot oil and once it is golden brown in color, you can now set it aside to sauté later on.
Nutritious Chili Tofu.. A must-try recipe!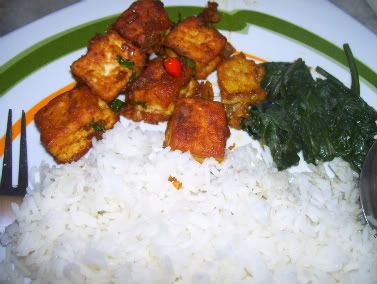 Step 2:
On a separate pan, heat oil and put jeera seed. Once it crackles, you can now put green chili and garlic. Don't let the garlic turn brown and dark because it taste bitter. Next is to put turmeric, ½ tbsp. ginger garlic paste and then curry leaves.
After this you can now put red chili powder, coriander powder and 2 tbsp. water so that your powder will not burn but just blend along with other spices. Put a bit of salt, soya sauce and lemon juice. Simmer for 20 seconds and now put your fried tofu. Let the tofu get the flavor by simmering it to 2 minutes on a very slow flame. Last but not least, put the coriander leaves and cover the pan as you put off the flame. This recipe is perfect to combine in any lentil recipes which I will cook later on.