Pinakbet is a famous dish from the north (Philippines). It consists of veggies like eggplant, lady finger, bitter gourd, string beans and squash. You can still add more veggies but the very basic is what I have mentioned above.
I just put the veggies so it is not yet cooked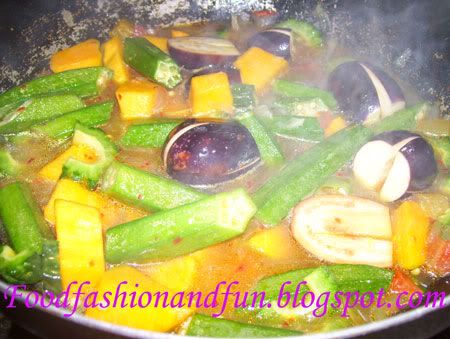 I don't know if you can call it blasphemy on my part for cooking Pinakbet with a bit of a twist since I added spice into it like chili flakes, turmeric and red chili powder. What can I do, I need to make my own rendition, yes that's right, my own rendition of Pinakbet since we don't have shrimp paste to use here so I improvised something like fish sauce (patis) and fish broth cubes which I bought back home before going back to India . They don't have patis or fish sauce here and they don't even include it in cooking their dish.
Steamy goodness of Pinakbet

Anyway, going back to my own rendition of Pinakbet Indian Style which I made it spicy (only thing that can be appreciated here), it does still taste fine. I did not regret to be bold enough to try it and taste. But if you were not into eating spicy foods, that's fine, just ample enough of chili flakes will do I guess. But the original cooking of Pinakbet, shrimp paste should be use and with meat like pork or prawns if you like.
Just the right way to cook your Pinakbet veggies

The one I prepared was mainly a veggie meal, I did not include any meat products, and so if you are a vegetarian, you will like this dish. Here is how you prepare Pinakbet:
Ingredients:
Squash
Lady finger (okra)
Bitter gourd (ampalaya)
Eggplant
Fish sauce
Fish broth cubes
Onion
Garlic
Cooking oil
Water
Chili powder
Chili flakes
Turmeric powder
Ground black pepper
Ginger-garlic paste
salt
Methods / Preparation for Cooking Pinakbet:
Step 1: Wash the veggies thoroughly and cut them into right size (For eggplant: if it's the round one, just criss-cross cutting it, for bitter gourd, not too thin and not too thick, for lady finger, cut it sided about two inches thick, for your squash cut it about an inch thick.
Step 2: On a pan heat the oil and sauté garlic and onions. Put some salt into your onion to cook it easily then sprinkle some pinch of turmeric powder into it. After this you need to put your chili powder, just enough for your taste before you put the veggies like squash, eggplant, bitter gourd and lady finger. Stir the veggies and put the fish broth cube and some fish sauce to taste.
Step 3: Add 2 cups of water for your veggies and then add the chili flakes into it. The water would be reflecting on the reddish color of your chili but would be getting something brown because of the eggplant. Just taste it and add some more salt and ground black pepper to your taste.
Step 4: Simmer the veggies for 5 minutes and check if it's already tender. Do not overcook your veggies.
Your Pinakbet is best served with any fried fish or any dried fish but of course with hot steaming rice. Enjoy your meal!