Breadfruit is a tropical type of tree which looks similar to jackfruit but without that sharp spikes and it does not grow bigger like that. It is rich in carbohydrates enough to keep your body warm which for me is perfect to cook and eat during cold rainy day or stormy weather.
Breadfruit can be cooked in so many ways from simple boiled food or being combined in a soup. It can be sautéed, marinated into sweets and it can be fried. It was my first time to eat it fried when my mother in law prepared it. I wasn't able to take the snap of what she cooked but I was able to take a picture of the breadfruit that grows in their backyard.
A Breadfruit tree found in my MIL's backyard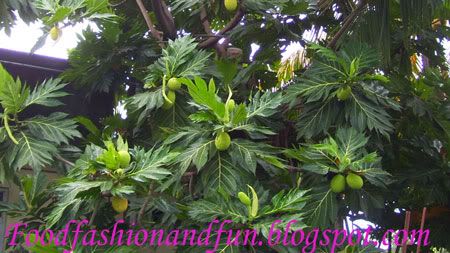 Rimas is the Tagalog word for Breadfruit. What my mom usually prepares for rimas was with coconut milk, green chili and some fish. It was really tasty and delicious every time she cooks it. Breadfruit lowers bad cholesterol level and is good for the heart. It is also rich in fiber so you can have a good digestion. It is also said that this vegetable is good for diabetic patients because it reduces the absorption of glucose in the food that we eat.
The experience I have eating fried breadfruit was something else. This vegetable easily absorbs the flavor of the ingredients that you put in. Since it was fried, it obviously displayed the flavors of salt, turmeric and red chili powder into my tongue. The scent is magnified even more when fried as if you are cooking some delicious meat.
Once you take a bite on fried breadfruit, the fleshy part of it digs into your teeth and it melts. It is indeed a bread looking taste since bread is tasteless without any fillings of a spread, this one is the same. You can get used of the inner taste which tastes less and I am more interested in eating what was the outer part rather than reaching the inner portion.
Unlike when you prepared rimas or breadfruit on a different menu, you won't be able to detect the difference of what's in and what's out of it. I don't know if it was just my palate, but certainly I would say that's a big difference. Well whether you like it or not, Breadfruit is another vegetable that is good for the health and that is the bottom line.