This is my 100th post and for my special recipe today I would like to share to you this chicken curry which I made it more yellowish than reddish. The last time I posted a recipe on chicken curry, it was dry and reddish in color since it has more masala and more spicy than this yellow curry that I have to share.
By the way, this is not the version of Filipino curry or Vietnamese curry which uses a certain curry paste for cooking. This chicken curry is still using Indian spices although I marinated the chicken with turmeric to make it look more yellowish plus I put less of red chili powder and I added some coconut milk to combine the goodness of the flavors of India.
It was really fascinating to learn how Indians from different regions cook their own versions of chicken curry. Some would like to include more seeds and then make a fine paste after they toast it. Some would just like to have it quick by marinating the chicken with most of the powdered spices and I have never seen them include some veggie like potato.
Blended perfection of red chili, turmeric and coconut milk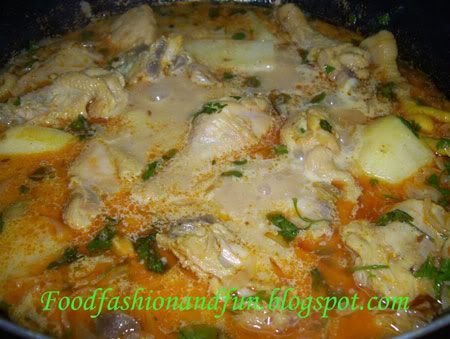 Some would like to include tomatoes in their curry while in this curry, I did not include any tomatoes because I am just specific to what I wanted to achieve, a yellowish color and so I named it Hello Yellow Curry. By the way, I did not use any dahi or yogurt in my dish since I already cook it using coconut milk. I also did not include any curry leaves but just fresh coriander leaves for garnishing.
The kitchen was filled with the abundant aroma of the spices and I see to it that I fry my chicken first before sautéing my onions. Most video presentations I saw online cooked their chicken in different ways. I like to marinate the chicken first to remove any foul smell. This is the right way you need to prepare your chicken before cooking it. Although some have used portions of cut lean chicken meat, while on my part, I did use chicken parts with bones because I like my curry sipped into those bones, it is more delicious to eat chicken parts with bones rather than with lean meat.
Here are my basic chicken curry ingredients:
Chicken parts (with bones)
3 medium sized onions (chopped)
2 green chilies (chopped)
Potato ( 1 medium size, cut into quarters)
4 cloves of garlic
Turmeric
Coriander powder
Whole garam masala – (cloves, black peppercorns, bay leaf, cinnamon stick, cardamom seeds)
Cumin seeds
Ginger- garlic paste
Red chili powder
Salt
Coconut milk (one cup)
Coriander leaves
Hing or asafetida
Water
Vegetable oil
Methods / Preparations on How to cook Hello Yellow Curry:
Hello Yellow Chicken Curry

Step 1: Marinate the chicken first by putting salt, ginger-garlic paste and turmeric. Leave if for few minutes or half an hour. I don't have any problem if you marinate the chicken in longer period of time, it is much better.
Step 2: In a pan put the marinated chicken. Let the water from the chicken come out first. Once the pan is dry, that is the time you put oil in your chicken and fry it until the chicken turns light brown. Set aside the chicken while you prepare the next thing for your curry.
Step 3: On that same pan, put half a teaspoon cumin seeds, once it crackle you can now put the whole garam masala and hing. Next step is the garlic and then your chopped onions and chopped green chilies. Make sure the onions get a golden brown color and put turmeric, salt and ginger garlic paste into it. Stir well so that it won't stick at the bottom of the pan.
Step 4: After this you can now put your coriander powder and red chili powder and stir it well together with the onions. Once the powder spices are in, you need to put the chicken pieces and stir it all together with your masala.
Step 5: Put one cup of water in your chicken and cook it for 10-13 minutes. Check the taste if it needs more salt. Once the water boils, you can now add your potatoes and then your coconut milk.
Step 6: Simmer for another 5-10 minutes and just check your potatoes if it's tender. The thicker and bigger you cut your potatoes, the longer the cooking time you need to wait. The final step is garnishing your curry with fresh coriander leaves. This gives another aroma and taste to your chicken curry.
Chicken curry is served best with hot rice or chapatti (flat bread) with mango pickles and papad. I do hope you enjoy cooking and if you have questions, you can leave me a post here and I hope to reply you back.