Hubby bought two Mahabaleshwar strawberry boxes for only Rs60.00 each. The strawberries were really fresh and big in sizes and I decided to make it a salad. Just an easy dessert that I have shared here before.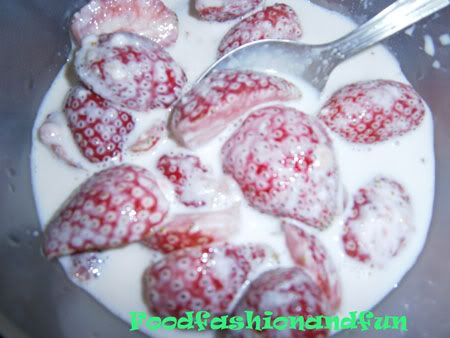 Just clean the strawberries first using fruit and vegetable wash and then cut of the strawberries into half or to whatever cut you like. Put all purpose cream, sweetened milk or condensed milk and cut cheese in cubes and put into ref, simple and that but the delight is really wonderful.
You can also add some more fruits along with your strawberries, but its better if you put a fruit that is crunchy to munch like the spanish turnip (singkamas) or pear (the yellow one). But since pear does fade in color after some time, I still suggest spanish turnip to be best to pair with this dessert.