I was able to ask hubby to buy red bell pepper, mushroom and broccoli last Thursday. Indeed I did cook Chopsuey. I just added the remaining veggies in the ref like cauliflower and cabbage. We do have remaining broiled chicken and beef liver that day and that was the one I used to saute with onion and garlic and my chopsuey was colorful and perfect.
Colorful and Yummy Chopsuey perfect for Christmas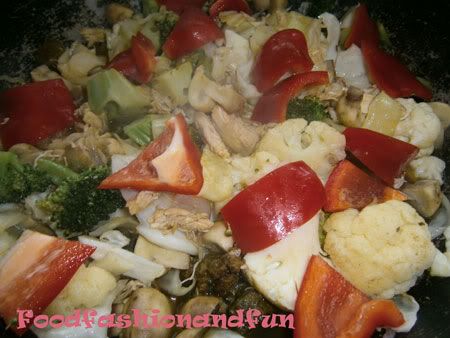 Just that you don't need to over cook your veggies when it comes to cooking Chopsuey. I just want to say that Chopsuey is prepared differently in other countries.Here in India, when we ordered chopsuey, it was served with fried noodles and the soup was creamy white and thick and the veggies included were only green bell pepper, cabbage and carrot.
Mushroom, broccoli, cabbage,red bell pepper, cauliflower, chicken bits and beef liver makes this dish a winner

Why not try to cook chopsuey this Christmas? It will be a colorful dish to serve and is very healthy too for the family. Besides, its just 8 more days to go before Christmas!