A weekday dinner at home- Mutton Spring Roll with Fish ball
We don't have much time to prepare food last Friday so hubby and I bought food outside. We already have rice and just fried homemade fish balls we personally made and Walla! ready for a delicious meal. It was still cold in Mumbai and we had our off-day beer tasting that I personally am not aware of what hubby should buy for a drink. In fact it was our first time to taste London Pilsner premium beer and it was really great.
Chilled London Pilsner Premium Beer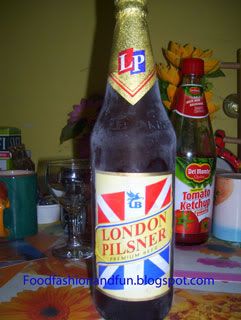 It was cheaper compared to local and branded beers in the market and I was really satisfied with this product. It was not that bitter and does not have a strong beer scent. It was also light because of the 5% alcohol content and was the cheapest among all other Indian branded beers. I don't know if it was just an introductory price but I have my two thumbs up for this one.
Mutton Spring Roll with Fish Ball

Anyway going back to the food that we ordered out, we just bought it near our place to where they barbecue some kebabs and what we had was mutton spring roll. The meat was tasty and juicy although it was kinda oily. I can say that the spring roll was made up of wheat type of roti or chapatti but just done exactly to wrap the mutton. It was prepared in a very special way that I haven't seen from other vendors around which they use a curry patta leaves to put the cooked mutton rolls as they give it to their customers. By the way, the food has freebies like onions, mint leaves and some green sauce which is made out of coriander leaves.
Sprig of Fresh Mint leaves with onions, Mutton spring roll and fish ball

The sprig of mint gives a refreshing flavor to the mutton as you chew it. It blends perfectly with the juicy and tasty fish balls that we cook. Not to mention the rice of course, this is already a staple food for most Asian countries.
If you notice our own version of fish ball, it wasn't white in color. To tell you the truth I experimented on preparing this one but the taste was really delicious and nothing can ever dictate me to have it done in white since it depends on the type of fish you prepare for fish ball and the types of ingredients you add for making it yummy and delicious. I guess this baby would sell a lot if I happen to explore and figure out the right sauce. But at that moment, hubby and I shared the sweet and spicy sauce that we have at home together with the chilly –garlic sauce.
A Very Tasty and Juicy Fish Ball that we made

After saying the grace and thanking God for the blessings He gave us for eating this delicious meal, we took snaps as samples for this blog and I am happy to share it with you guys. I guess I will be missing this Mutton Spring roll again if I go back to my country for a short vacation. Anyway, there is nothing more than to bond with your loved ones. We enjoyed our dinner very well and indeed it was another blessing.