Who wants some Choco Coins? I have missed this sweet treat long time back. I used to remember that only Christmas season do we find to buy such chocolate coins in the market. The packaging differs in color but the one that I am delighted most is the gold coins rather than silver coins. The taste will never be great like the famous chocolate bars. It was just for fun and something to play at.
I used to play these chocolate coins with my neighbor friends. We used to exchange it as we play traders. I also remember how I used to have a pack of gold chocolate coins in our Christmas tree. It feels so great being a kid and this chocolates help me remember the times I have when I was young.
Chocolate Coins for the Kids and Young at heart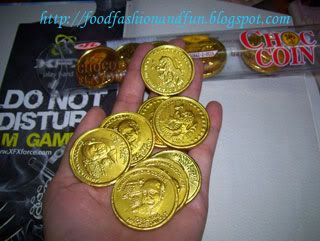 Christmas season again and I bought this one here in Mumbai. The consistency of the chocolate was kinda hard with lots of emulsified oil in it. But anyway, I was just after the big gold coins where I wanted to include in my decoration.
Gold Chocolate Coins Anyone?

The size was a bit bigger than what I used to buy before but it was good since it does not melt easily like the consistency of other chocolate coins. I still have it inside the fridge since one pack has 20 pieces of gold coins which costs around Rs69.00. Not that cheap since it wasn't made in India, but just imported in Thailand. I like the design or how emboss it was when peeled. Got a treasure chest there? this one will fit well.